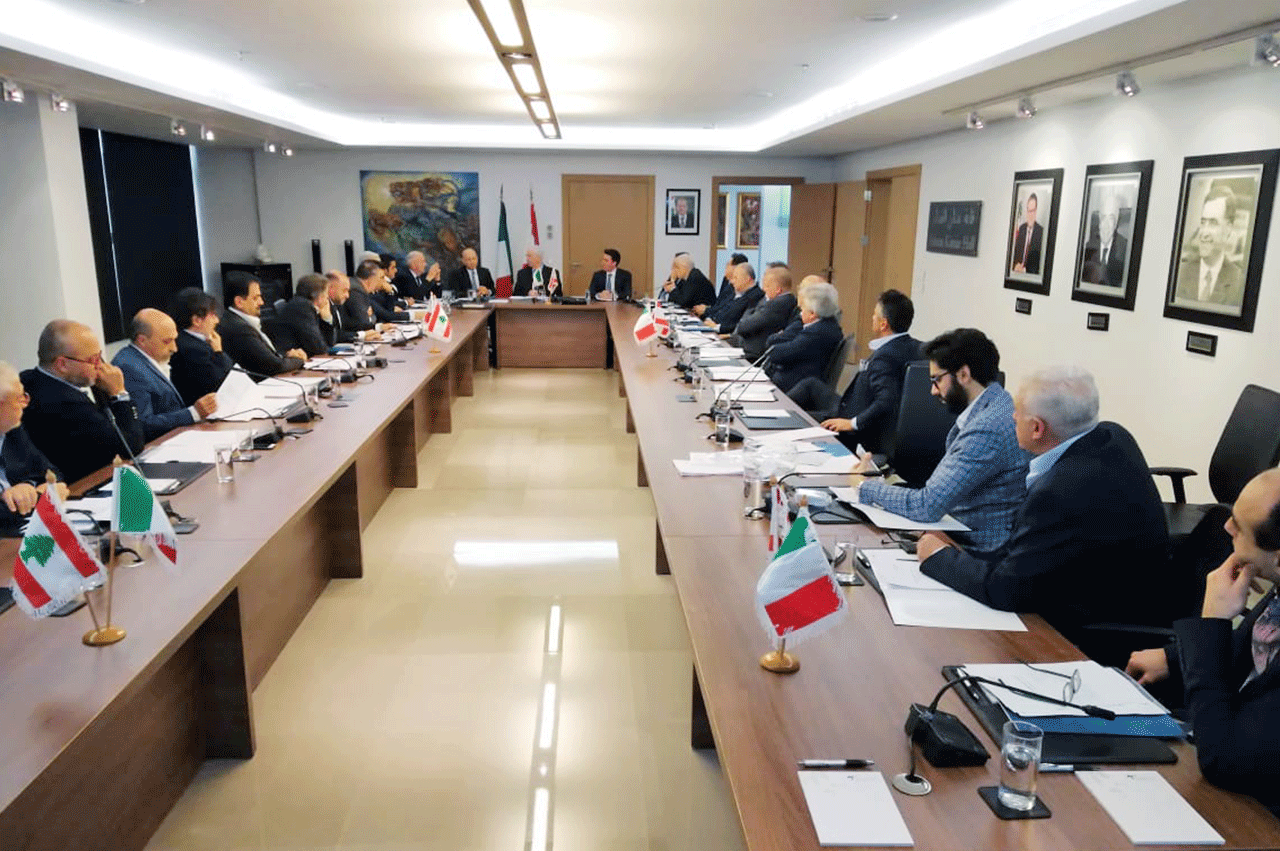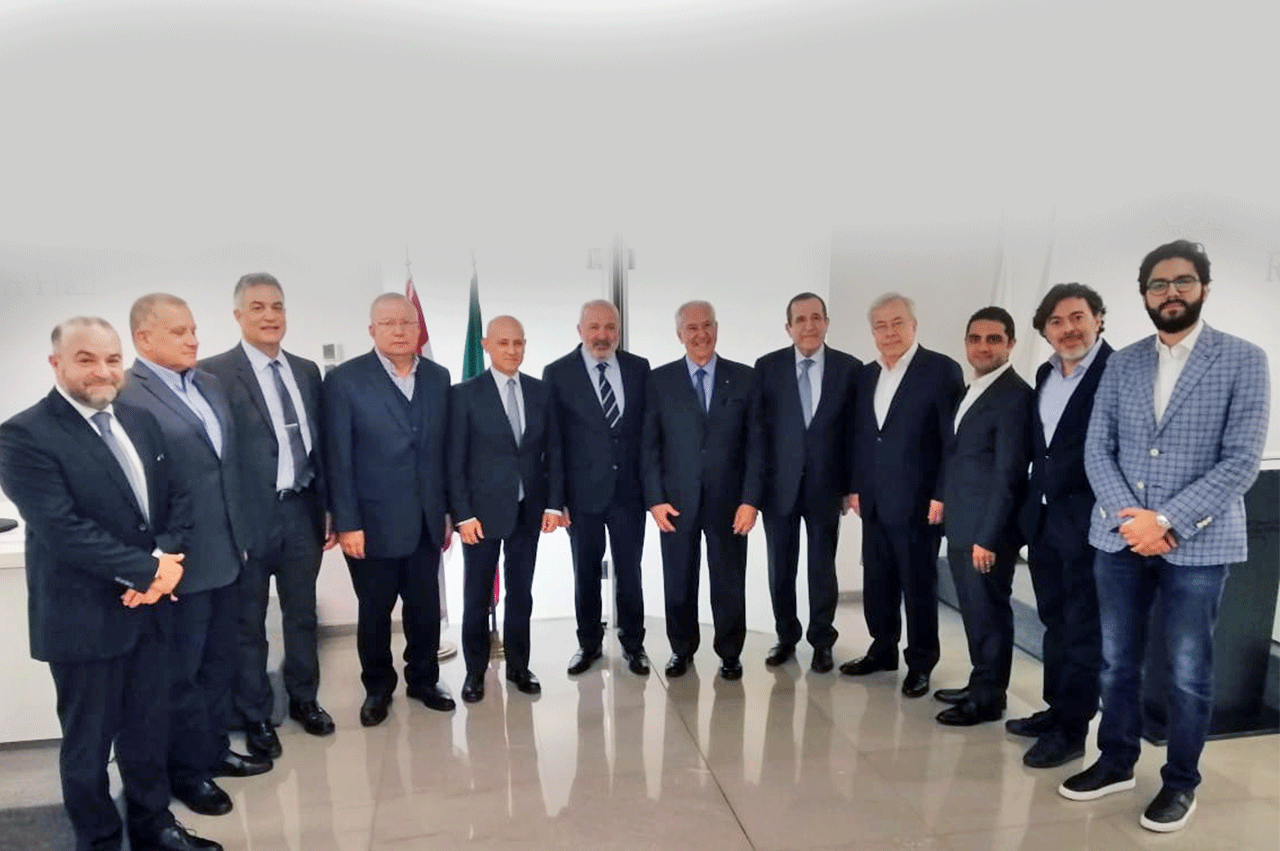 ABOUT US
The Lebanese Italian Business Council "LEBITALIA" was established in July 2013 based on an agreement signed between the Chamber of Commerce, Industry and Agriculture in Beirut and Mount Lebanon and the Chamber of Commerce, Industry, Agriculture and Crafts in Milan.
LEBITALIA is a non-governmental and non-profit organization that works at developing and expanding trade and business relations between the Lebanese and Italian business communities.
Our main objectives are mainly to strengthen trade partnerships between Lebanon and Italy, develop the exchange of goods and services between the two countries, and work towards establishing sustainable relations between both countries in economic, industrial and trade fields.
EXECUTIVE BOARD
On 10th April 2019, a new Board for Lebitalia was elected at the Chamber of Commerce, Industry and Agriculture in Beirut and Mount Lebanon, in the presence of the Italian Ambassador to Lebanon, His Excellency Mr. Massimo Marotti.
Members of the new board are:
MISSION STATEMENT
LEBITALIA aims at developing business and trade relations between Lebanon and Italy. A member of the Chamber of Commerce, Industry and Agriculture of Beirut & Mount Lebanon, LEBITALIA, is established with the purpose of expanding economic and trade relations, as well as fostering business relationships and investments between Lebanon and Italy.
Introduce Lebanese and Italian businessmen and investors to economic and production potentials and opportunities in each country.
Promote trade partnerships between Lebanon and Italy, and work towards the establishment of harmonious relations in the economic, industrial and trade sectors between the two countries.
Encourage the exchange of knowledge and experiences, and facilitate communications between organizations, companies, associations, institutions, as well as economic and financial bodies in both countries.
Support businessmen in the two countries by providing them with information related to investments, financial instruments, as well as, legal framework and regulations governing trade and investment and employment opportunities.
Actively seek to remove obstacles that may arise in particular to investments and exchange of goods and services. Encourage the signing of bilateral cooperation agreements, monitor their application and submit proposals and recommendations for the development of current agreements and protocols.
MEMBERS LIST
Mr. Abbas ElMoussawi
Arcom AlMoussawi Ceramics
Ceramics, tiles, Sanitary ware, Bathrooms, Kitchens, Fitings Mosaics
alimoussawi@arcomgroup.com
Mr. Abdel Wadoud Nsouli
Nsouli
General Trade, Contracting, Manufacturing Facilities in different fields industry, supply&contractingof complete production line for industrial projects,commercial and military vessels,military uniform,military vehicles&equipment
abdelwadoud_nsouli@yahoo.com
Mr. Albert Aoun
IFP Group
Exhibitions, Conferences and Events Organizer
aaoun@ifpgroup.com
Mr. Ali ElMoussawi
Arcom AlMoussawi Ceramics
Ceramics, tiles, Sanitary ware, Bathrooms, Kitchens, Fitings Mosaics
alimoussawi@arcomgroup.com
Mr. Antoine Habib
Future Pipe Industries
Delivering Water & Energy & Fiberglass Pipes in addition to the delivery of Innovative Services
a.habib@futurepipe.com
Mr. Antoine Massoud
Establishments Antoine Massoud s.a.l (EAM)
Food & Beverage agent and Distribution
eam@eamlb.com
Mr. Arslan Sinno
Dora Flour Mills
Food Indusrty
asinno@doramills.com
Mr. Bassam Halabi
Riad Halabi & Sons
Sanitary Ware,Ceramic Tiles Kitchens
info@riadhalabi.com.lb
Mr. Bassem Slim
Softy Trading and Marketing
General Trade(food sector)
bassem@softylb.com,rana@softylb.com
Mr. Chawki Harb
Harb Electric
dealer of all kinds of high, medium , and low voltage equipment for the electrical, industrial, and commercial sectors
info@harbelectric.com,
chawki_harb@harbelectric.com
Mr. Elie Skaff
Skaff Brothers
Industial
elie@skaffbrothers.com
Mr. Fadi Martinos
Mobilitop & Minoti Beirut
Furniture Import and Distribution
f.martinos@mobilitop.com
Mr. Fady Farah
Alsalam Co.
Engineering
f.farah@alsalemco.com
Mr. Gaby Antaki
Antaki GPK Holdings Sal
Electronics, Appliances, IT and Telecom Distribution
gantaki@antakigppk.com
Mr. George Nasr
George Nassr
GeorgesNassr@georgesnassr.com
Mr. Hassan Hakim
AlMabani Equipments and Material Supplies Sal
Building Products
Mabani_h@cyberia.net.lb,
hassan@hakimceramics.com
Mr. Hassan Attar
Attar Steel
Steel Indusrty
hassan.attar@attarsteel.com
Mr. Imad El Jamil
Aljamil the Trade Union Co.
importer and wholesaler of autospare parts
imad.jamil@gmail.com
Mr. Joseph Vincenti
G.Vincenti & Sons Sal
Food Sector
vincenti@g-vincenti.com.lb
Mr. Karim Idriss
Ets.Wafic Idriss
Fast Moving Consumer Goods. (FMCG)
k.idriss@widriss.com
Mr. Mahmoud Elhamoui
ElHamoui Group
Retail/Distribution(women`s apparel & Accessorizes Trading/Contracting(Aluminium and Glazing
melhamoui@elhamouigroup.com
Mr. Marc Moretti
Ets. Caporal & Moretti sal
telecommunication services
m.moretti@capmor.com
Mr. Maurice Karam
Construction Material Co.
Building Materials
cmc@cmclb.com
Mr. Michael Trad
Fiat
Automative and Parts
mtrad@saadtrad.com
Mr. Michel Cherenti
Credit Libanais
Financial and trade services
mcherenti@creditlibanais.com.lb
Mr. Mohamad Itani
Arison,Abdel Razak Itani & Sons Co.
Representation, Assembly& Trading of Pumps generating Sets, & Electro Mechanical Equipments E/M Contracting
m.itani@arisongulf.com
Mr Mohamad Ali Kabbani
KC Engineering & Industry
EPC Contractor and Supplier for Low, Medium and High Voltage Electrical Products and Systems - Panel Builder/System Integrator – Solution Provider i.e. Maintenance, Repair and Retrofit Services.
ma.kabbani@kc-lb.com
Mr. Moustafa Badr
Muheidine Badr Co.
Confectionary
moustafa@badrco.com.lb
Mr. Nabil Kettaneh
Ets. FA Kettaneh
Trade
nabil@kettaneh.com
Mr. Nabil Bazergi
G.A.Bazergi & Sons
automative (Maserati, Lancia, Suzuki)
nabil@bazergi.com
Mr. Nabil Chehab
Chehab Brothers sal
industrial and medical gases
nchehab@chehab-bros.com
Mr. Nicolas Bou Kather
A.N.Boukather Holding
Exclusive distributors of vehicles motorbikes &scooters with their accessories maintenance & repair services
nb@anbholding.com
Mr. Nicolas Tueni
Orient,Manufacturing&TradingCo
Trading
info@omatra.org
Lebanon@omatra.org
Mr. Patrik Nahas
Fabric Trading Company
Patrick@fabrianolebanon.com
Mr. Rafic Gazzoui
Rafic Gazzoui&Co. Sal
Import and Export of Electro-mechanical products
rafic@gazzaoui.com
Mr. Raphael Debbaneh
Desco Holding
Agriculture, Telecoms, Horticulture, Wine and Insultation
rdebbane@debbane.com
Mr. Rayan Kouatly
Kouatly and Associates Attorneys
Legal Consultancy
rayan.kouatly@kouatlylaw.com
Mr. Raymond Chammas
Medco
petroleum products
medco@dm.net.lb
Mr. Riad Elkaddoum
Parwood
timber and wood Flooring trade
riadkaddoum@parwood.net
Mr. Roger Zaccar
Commercial Insurane
Insurance
rogerzaccar@commercial insurance.com.lb
Mr. Ronald Farra
Farra Design Center
Furniture Import and Distribution
ron@farra.com
Mr. Samer Hilal
Tripoli
Trade in Textile
samer.hilal@hotmail.com
Mr. Vrej Sabonjian
Vresso sal
Food service industry
info@vresso.com
Mr. Wajdi Bou Khalil
Bou Khalil Societe Moderne SAL
Retails G.d.o supermarkets
wajdi_bk@yahoo.it
Mr. Ziad Salibi
Future Pipe Industries
z.salibi@futurepipe.com
Mr. Ziad Kamaredine
Linea Max sarl
Importer of Italian Designer Footwear and Handbags
ziadkamareddine@gmail.com
Mr. Ziad Tabbara
Tabbara Electro Mechanic
Elecro mechanics
T.E.M@cyberia.net.lb
Mr. Ziad Bekdache
Oriental Paper Products
Manufacturing all sorts of cpybooks&stationary
opp@opp.com.lb
Copyright © The Lebanese Italian Business Council. All rights reserved.